Lighting Science Recalls Times Square Ball Redesign Project
2017-01-21
This blog post is by Kate Kaminski, the Marketing Director of Lighting Science sheds light on the New York Times Square crystal ball design.

Remembering The Times Square Ball Redesign Project. (All photos courtesy of Lighting Science)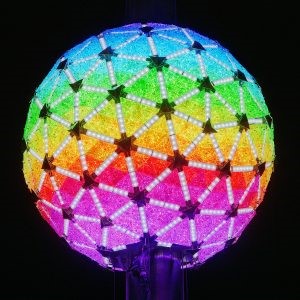 The Times Square Ball, a New Year's Eve Tradition got a facelift.
Working for an LED manufacturer, I have the privilege to be surrounded by some of the brightest and most talented scientists and engineers in the business. These are people who are truly trying to make a difference in the world around them by utilizing the amazing science of light in ways that can help shape the world around us, affect the health of people, plants and animals and create a vibrant, more sustainable world. We have been fortunate to work on many high-profile projects over the years, but one that remains close to all our hearts at Lighting Science was when we were asked to help redesign and retrofit the New York City's Time Square Ball with LED lighting almost 10 years ago. This beloved New York icon was given a much-needed 21st century makeover by Lighting Science Group and a handful of industry leaders, to help create a bigger, brighter and more energy-efficient New Year's Eve Ball.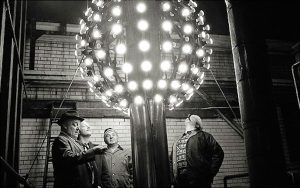 The 1st New Year's Eve Ball, circa 1907.
The Switch to LED
The tradition of lowering the illuminated orb symbolically at the exact turn of the year in Times Square may date back to the early 1900's, but today's giant Waterford crystal ball is light years ahead in technology. The first New Year's Eve Ball was made of iron and wood, and was lit with a mere 100 25W light bulbs. Today's Ball catapulted into the 21st century with this redesign, now competing with Times Square's modern, high-tech electronic signage and lasers in a way that none of its predecessors could. The new ball boasts more than 32,000 LEDs with up to 4.3 billion possible color combinations for a kaleidoscope of hues. It is twice the diameter of the previous Ball – at 12 feet wide and weighs 11,875 pounds. That's equivalent to the weight of four compact cars while its diameter is comparable to the length of an average SUV! It contained 672 LED modules comprising a total of 32,256 LEDs, more than triple the number used in its immediate predecessor. This makes it three times brighter while utilizing twenty percent less energy. Lighting Science designed and developed the overall lighting system for the Ball, including the LED modules, power systems, and power and data distribution networks. In addition, we created custom optical reflectors which extract maximum light output, and an integrated thermal management system.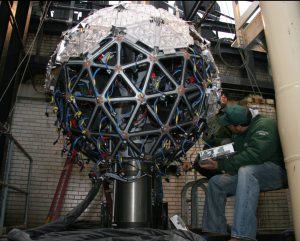 The Times Square Ball redesign from standard incandescent lamps to LED was a massive undertaking.
Lighting Science first became involved in the New Year's Eve Times Square Ball rejuvenation project in 2008, in honor of its 100th anniversary celebration to transition the Ball from it's standard, conventional lighting to individually addressable LED technology. For the first time, the Ball was going to be designed to remain in place as a year-round attraction on top of One Times Square, the building dubbed "the Crossroads of the World". This specific fact created extra challenges for our team, as the Ball had to be able to weather New York's snowy winters and extremely hot, humid summers. Hours of electrical, mechanical and environmental tests were performed to ensure optimal long-term performance, aided by a new, state-of-the-art thermal engineering system. "Extensive thermal and design calculations were involved in the transition to LED technology," says Fred Maxik, Founder and Chief Technology Officer of Lighting Science. "Although LEDs run much cooler than legacy incandescent, since the redesigned Times Square Ball was going to remain up and displayed 365 days a year, it required 9,000 CFM of cooling fans to exhaust the internal heat during the hottest days of the summer."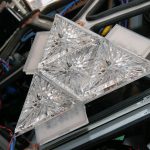 2,688 Glistening Waterford Crystal Panels are Illuminated with LED Lamps.
The New Design Emerges
The Ball is covered in 2,688 glimmering Waterford crystals arranged in triangles to create a geodesic globe. The LEDs illuminating the crystals can be programmed to create spectacular theatrical effects and patterns that allow each facet of crystal to be viewed from the streets of Times Square, over 400 feet below. Each LED module were designed with four individually addressable red, green, blue, and white (RGBW) pixels, which equates to a total of 10,752 RGBW individually addressable pixels. By doing so, the video could then be programmed and displayed over the Ball's entire surface as revelers count down the New Year from below.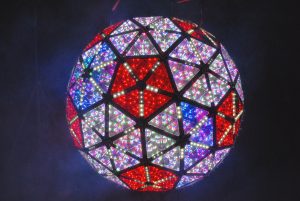 The Redesigned LED Times Square Ball.
A true lighting engineering feat, the Times Square Ball still shines brightly over New York City. Every New Year's Eve, the iconic, shimmering Ball serves as a reminder of hope and the promise of another new year for millions around the globe who watch and celebrate the New Year's festivities. At Lighting Science, we can't help but look back and be reminded how our design and engineering efforts helped to create the amazing LED spectacular that the Time Square Ball is today and we are proud to have been a part of this unique opportunity.